My mother-in-law is the one who really got me into crocheting and interesting in working with yarns.  One of the first projects she worked on for me was custom made ear bonnets for my horses.  They turned out to be beautiful works of art that get tons of attention any time I dress my horses up in them.
To those of you who don't know what these crochet ears for horses are they are to keep flies out of their ears and the fringe keep the flies away from their eyes. 
Materials alone to make the beaded bonnet came out to $40!  Now that's some serious equine bling!  Best of all they match my barn colors perfectly. 
================================
11/17/09
Thought I'd share with you a sneak peak of the bonnets my mother-in-law has been working on.  Each is hand crocheted, hand beaded, hand sewn works of art.  She has made them in almost every color of the rainbow with different accents and bead styles.  I'll be sure to keep this post updated if she puts them up for sale.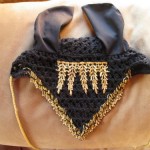 ================================
11/18/09
Here's photos of the test one I've been working on.  It's scrap yarn I had hanging around but I really like the colors.  I'm going to see what fabric I can find that'll match for the ears today.  Maybe dark green or blue.  I'm still not happy with the pattern I used.  I'm going to try some different things before I make a pattern available.