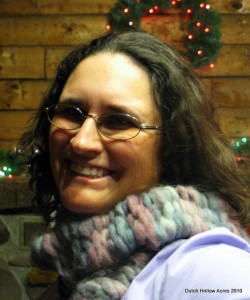 Hello Fiber Arts Friday, Crafty Friday fans and DIY Craft Linky!
As promised here is the tutorial on how to make and use a peg loom! (video at end of post)
Peg loom or peglooms are a popular fiber art in the UK but I could not find any information readily available in my internet searches on how to make or use this easy tool here in the states.  So, I figured I'd make my own.
The concept of a peg loom is very simple; it's just a board, with holes drilled in it with pegs put in those holes.  Here's the materials list I used to make my loom.
–       2×4 board (at least 3ft long if you plan on making rugs)
–       (4) 7/16 dowel
–       Measuring tape and pencil
–       Hand saw
–       Cordless drill
–       1/2 inch drill bit and a small bit just large enough for yarn to be thread through it 
–       Weaving material – bulky yarn, roving, fabric strips or even raw fiber
Cut your dowels down into 6" pieces (should get 36 out of 4 dowels)
On your 2×4 mark a spot in the center of the board every 1 inch, this is where you will drill holes (36 holes in all).  If you're using a different sized dowel the rule of thumb is do double the diameter of your down to get the measurement to mark for drilling. 
Next start drilling where you marked.  Test your depth on the first hole by drilling down a bit and then putting the dowel in so it wants to stay in the hole.  Usually ½ – ¾ depth.
Next put all your dowels in the drilled holes and mark with your pencil where the dowel and the board meat.  Remove the each dowel and with a small drill bit drill a tiny hole about ¼ inch above the marked line.
Your Done!
Warping your Peg Loom
First determine the width you project will be.  For the scarf in the video I'm using only 3 pegs.  If you're making a rag rug or a wool rug this loom can make up to a 3 foot wide rug!
Next choose your warp material.  Your warp will not show in your finished project unless you want to use it as fringe at the ends.  Your warp threads will need to be double the length of your finished product plus a little extra for fringe or to be used to tuck in.
Thread each peg with your warp and place the peg in its hole.
Weaving material can be anything from raw fleece locks, roving, rag stripes or even chunky yarns. (I'll do a tutorial on using raw fiber at a later time when I get more fluff off my alpacas)
Weaving on your Peg Loom
To start off make a slip knot and place it over the first peg.  Weave in and out of all the pegs, when you get to the end come around the last peg and weave in and out the way back. Continue until your pegs are full.
When pegs are full pick up each peg and push down the weave onto the strings and replace the peg, repeat with the remaining pegs.  
Wash, rinse, repeat, LOL.  Yup that's it keep on going it's that easy.
When you get to the end tie off your last bit to the end peg.
Warp strings should now be knotted.  Tie the first (3) strings together on each end and then every (2) strings in the middle.  This will prevent your work from falling off the end.   Do the same on your finished end.
You can choose to leave your knotted warp strings as fringe or you can sew them up into your project.
Here's the video of the peg loom scarf from start to finish.  Don't worry I go hyper fast 12x through most of it so my 1/2 hour scarf fits in this video.