Economics: The Big Bale Buddy will save 25% to 30% more hay as compared to setting the bale out without a feeder. The initial investment is quickly recouped by and the Big Bale Buddy will continue to pay for itself many times over in saved hay.
Safety: 100% safety record. Since the introduction of the Big Bale Buddy in 2006 we have had zero reports of injury to livestock and have had many communications from happy customers praising its safety. Because the Big Bale Buddy hugs the hay bale, there is no space for the animal to get its legs or head caught, unlike steel and plastic pen type feeders which have caused many injuries and even loss of animal life.
Construction: The Big Bale Buddy is made of extremely strong, flexible, open weave 100% polypropylene. It is tough enough to withstand assault by hooves and teeth and the open weave allows air and water to pass through. The seams are all double sewn with polypropylene twine, and the polypropylene elastic around the top opening is triple sewn for safety. Polypropylene is extremely strong and naturally stain and rot resistant, and 2 years (1200 hours) of UV protection keep it safe from the sun.
Warranty: The Big Bale Buddy comes with a one year replacement warranty against tearing and manufacturers defects. Contact Buddy Incorporated directly for replacement.
How to use: Stand the bale on a flat end and remove the twine. Hook the elastic opening over the top end of the ale all the way around and then tug it down until the bale is covered. Flip the bale over onto its other flat end and tug the elastic up over the top edge of the bale. The hay is now ready to feed. Alternately, if the bale is being moved to the feeding area with a tractor, the Big Bale Buddy can be pulled over the bale while it is raised for transport. As the bale is eaten the Big Bale Buddy will collapse down with it, keeping the hay inside.
Sizing: The Big Bale Buddy works best if it fits snugly. Physically measure your bales before choosing a size!
Go from feeding like this….
To feeding hay in a Big Bale Buddy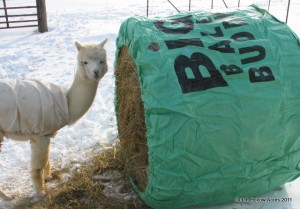 Works well for alpacas too!