Welcome Fiber Arts Friday and Crafty Friday Fans.
It is 2011 and with it brings the dreaded New Year's Resolution.  I made a few resolutions this year related to fiber. 
Learn to knit
Hand paint roving
Learn to ply with thread
Learn to spin beaded yarns
Sounds like a pretty extensive list doesn't it?  Would you believe in 1 weekend I did every single one of those items?!  
The Christmas holiday flattened our household with the stomach bug and then a cold.  For a solid week everyone was bed ridden and by the time we started to feel better our boredom could be contained no more.  My mother-in-law(M-n-L) and I went fiber crazy!
Spinning
I had gotten some beautiful merino/bamboo/nylon blended roving from the "roving of the month" club I'm in and while I was still in a fog I spun it up into a thin single with plans of just plying it onto itself for a simple 2 ply.  However the colors wanted more than just a simple ply they wanted pizzazz!  It called out I want GOLD I want Glitter!
The only way I could think of adding some bling to the work was with beads and gold thread. With the help of M-n-L we beaded up some thread and swore a lot plying it into the yarn. 
It was so beautiful, I say was because I learned the hard way that with metallic thread you do NOT set the twist.  The second the yarn hit the water the threat went nuts and twisted up onto itself. *sigh* I would be disappointed but the yarn still looks great and even more unique with all the gold thread bits sticking out of it.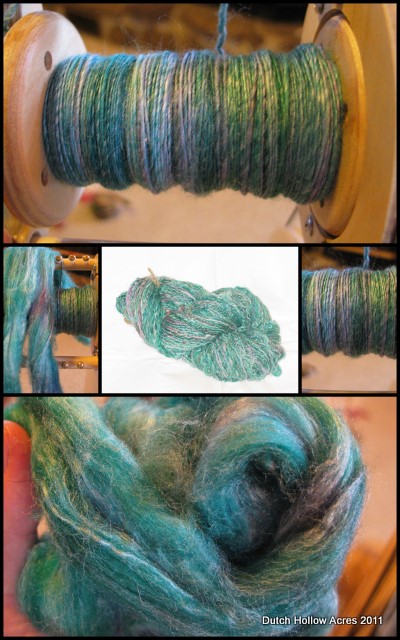 Dying Roving
After the above spinning project I wanted to do more and M-n-L never dyed roving or yarns before so it sounded like a fun project to do.  I weighed out (2) 4 oz portions of roving and each of us got to paint away.  We opted not to wet the roving first so it would suck up the dyes better and not make even more of a counter mess. The end result? A whole lot of fun an laughing.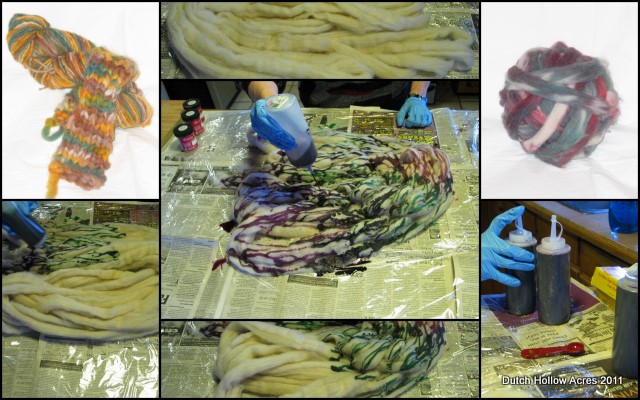 Knitting
Sunday came and the though of having to go back to work hung over the household.  M-n-L was knitting away on a sweater she was making out of yarn she had gotten for Christmas and I asked if she would teach me to knit.  Sure!
She taught me the "English" way and the general technique and sent me off to my own accord.  Immediately I hated the way the needles felt in my hands and worked them around until they felt better and started knitting.  As I was plodding away M-n-L asked what I was doing because my needles were flying away.  I guess I was a fast learner and ended up teaching myself the German way of knitting without knowing it.  After a few test patches I decided to tackle a full project.
I had gone to my local Yarn Boutique and picked up some Merino/Camel blend and it just called out to me "Hat." So a hat it became. Tada!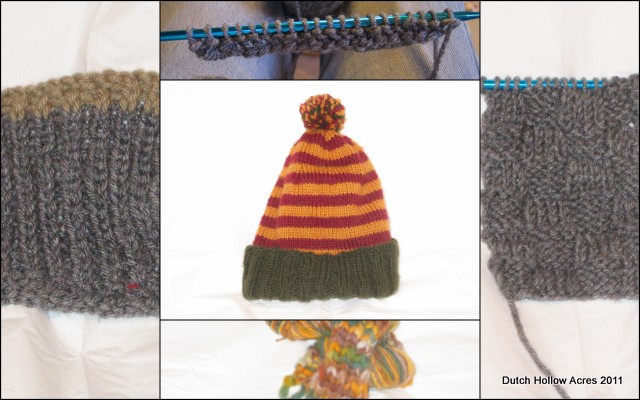 Well that wraps up my week.  Crazy huh?
What did you do?