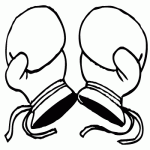 This past Sunday evening we decided to give the alpacas their monthly Ivermec shot and to trim toenails. Monthly shots are hardly exciting anymore and usually none of the alpacas put up much of a fight. Clipping toenails turned out to be a totally different story.
It turns out alpacas are fully aware of the 80/20 rule. 80% of your problems will come from 20% of your alpacas. I seriously think alpacas can count and do math. 1 out of 5 girls is 20% after all.
We saved the hard ones for last with the false hope that maybe they'll watch the others and get the idea that no one was being killed. The others did such a good job and stood quietly as I picked up each foot and clipped the long nails off, I was really feeling hopeful. That was until we went to catch the last one.
Giving the shot wasn't a problem at all and went smoothly. I slowly worked my hand down from the neck to her legs and the first explosion went off. Did you know that alpacas when standing on their hind legs are WAY taller than my 6'2" frame? Thankfully M was with me and the 2 of us got her under control, or so we thought. First it always starts with the spitting but in our case it was more like dodging grape shot. M had been keeping her occupied by feeding her hay stretcher and each time she spat the chunks of stretcher would fly out of her mouth like bird shot. Potentially hazardous, but thankfully no match for Carharts.
M finally got her in a good hold and I managed to clip the first foot and she then went into full wrestling mode with M. After a short tiff, the position I found both alpaca and husband was quite peculiar. M was straddling her, heck stuck out between his legs like a large knight mounted on a really small and fuzzy horse. M seemed as confused as the alpaca on how they ended up that way but she seemed to be comfortable and was still standing. So, I took quick advantage of the situation and managed to trim the other 3 legs.
Mission accomplished M dismounted his trusty steed. His mount seemed to have forgotten the whole event and immediately went back to sniffing out our hands and pockets for treats.
I'm not quite sure how to award this round so I'm going to consider it a tie.